Namaste
May our lives be offerings. May our minds blaze with insight. May we be one with all that exists. May we work for the benefit of all sentient beings, steeped in the insight that each one of us is Lord Śiva.

FOR MARKJI'S LECTURE AND TEACHING TOUR FOR 2014, PLEASE SEE ANNOUNCEMENTS BELOW–there will be several exciting new workshops offered in Europe, the U.S., and Australia.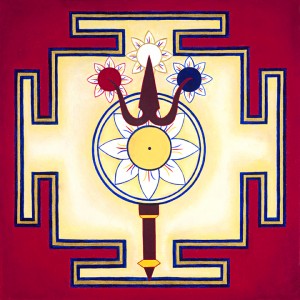 Welcome to Anuttara Trika Kula, the new website of Dr. Mark Dyczkowski, one of the world's foremost authorities on Tantra. This is our humble offering to aspirants worldwide through traditional and digital approaches.
On this site, you will find Dr. Dyczkowski's lectures on Trika Kashmiri Shaivism, teachings on Abhinavagupta's Tantrasāra, Tantrāloka and more. There are a variety of free articles, video and audio courses that will be offered at introductory, intermediate and advanced levels. We will also be offering courses focused on specific topics like Tantrāloka, Śiva Sūtra, History of Śaiva Tantra, etc. While our goal is to offer the courses as a service to humanity, modest fees will be charged for some courses in order to cover the basic costs of delivering the lessons. The free articles, blogs and lectures will continue to be developed and shared as well.
Announcements
This web site has now replaced www.MarkDKashi.com. If you had previously registered on the old site, please re-register yourself using the "Register" link above. For details, please Contact Us.
Markji will be traveling to offer teachings and concerts in 2014 at several international venues.  Here is his current travel schedule–please check back here for detailed updates:

Bologna, Italy
June 28-29
Weekend workshop on the Doctrine of Vibration
IN ITALIAN. It will be held on Saturday 28th June and Sunday 29th June at the Kutir in Bologna. Details of the place are on the site at www.kutir.it.
New York
August 1-3
Workshop: Tantric Worldview: Contemplations through the Tantrāloka and the 36 Tattvas, Saltonstall Studio, www.ellensaltonstall.com
Denver, Colorado
August 6-10
Workshop on meditation techniques of the Vijñāna-Bhairava.
Check out the flyer here.
Please contact Reid Bruggemann at: Reid525@gmail.com.
To register: visit www.shivamandir.org/community-programs
Northern California
August 14-17
Workshop on "The Wheel of Time and the Cycle of the Breath. Chapter Six of the Tantrāloka." Grass Valley, CA, Veda Vyasa Center.
Check out the flyer here.
CLICK HERE for details and registration.

August 20-24
August 20-24 Workshop on "The Workshop on "The Vision of the Eye: The Ascension and Transformation of Kaula Union and the Wheel of the Twelve Kālīs. Chapter Four of the Tantrāloka." Cultural Integration Fellowship, San Francisco.
Check out the flyer here.
CLICK HERE for further details.


Melbourne, Australia
End August/early September
Teachings on Spanda-Kārikās (Stanzas on Vibration).
Location and details to be announced soon.

Lessons twice a week at Narad Ghat, Varanasi  These begin in the third week of September and continue to the end of March. They are open to all free of cost.
Indian telephone contact number : (0091-) 542 – 2450169 (September – April)
Italian telephone contact number:  (0039) 051-0091-542-245-0169 (May – July)
EMAIL contact (new email address for Dr. Mark Dyczkowski):  newmarkvns@gmail.com