Namaste
May our lives be offerings. May our minds blaze with insight. May we be one with all that exists. May we work for the benefit of all sentient beings, steeped in the insight that each one of us is Lord Śiva.

FOR MARKJI'S LECTURE AND TEACHING TOUR FOR 2014, PLEASE SEE ANNOUNCEMENTS BELOW–there will be several exciting new workshops offered in Europe, the U.S., and Australia.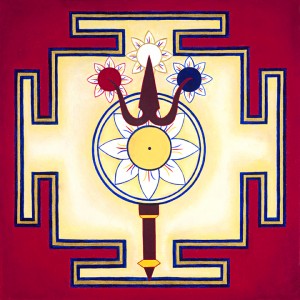 Welcome to Anuttara Trika Kula, the website of Dr. Mark Dyczkowski, one of the world's foremost scholars on Tantra and Kashmiri  Shaivism. He has lived and worked in India for close to forty years and studied at the feet of Swami Laksmanjoo and distinguished scholars in India and abroad. On this site, you will find Mark's lectures on Kashmir Shaivism which includes teachings on Abhinavagupta's Tantrasāra, Tantrāloka and more.
There are a variety of articles, video and audio courses for introductory, intermediate and advanced levels. These include courses focused on specific topics like Tantrāloka, Śiva Sūtra, History of Śaiva Tantra and so on. There are also free videos, articles, blogs and lectures which will be continued. Our goal is to preserve the teachings and make them widely accessible. With this view in mind, we have kept the prices low. This is our humble offering to aspirants worldwide through traditional and digital approaches.
Announcements
This web site has now replaced www.MarkDKashi.com. If you had previously registered on the old site, please re-register yourself using the "Register" link above. For details, please Contact Us.
Markji will be traveling to offer teachings and concerts in 2014 at several international venues.  Here is his current travel schedule–please check back here for detailed updates:

Northern California
August 20-24
August 20-24 Workshop on "The Workshop on "The Vision of the Eye: The Ascension and Transformation of Kaula Union and the Wheel of the Twelve Kālīs. Chapter Four of the Tantrāloka." Cultural Integration Fellowship, San Francisco.
Check out the flyer here.
CLICK HERE for further details.


Melbourne, Australia
Sunday August 31st
The Self is Consciousness: Self-recognition and the philosophy of Kashmir Shaivism

A workshop with Mahamandaleshwar Swami Shankarananda and Dr Mark Dyczkowski
Shiva School of Meditation and Yoga
For program details and registration, please visit: http://www.shivayoga.org.au/programs/occasional/kashmir-shaivism-workshop/

Lessons twice a week at Narad Ghat, Varanasi  These begin in the third week of September and continue to the end of March. They are open to all free of cost.
Indian telephone contact number : (0091-) 542 – 2450169 (September – April)
Italian telephone contact number:  (0039) 051-0091-542-245-0169 (May – July)
EMAIL contact (new email address for Dr. Mark Dyczkowski):  newmarkvns@gmail.com